Keep Your Ford Vehicle Running Smoothly with Regular Service in Nebraska City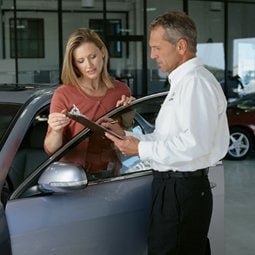 Scheduling regular service is the best way to keep your Ford vehicle running smoothly for years to come. Fortunately, the pros here at Larson Motors Inc know exactly how to care for your car and keep it in excellent shape so that you can enjoy more miles of adventure and fewer big service issues. Our service center is outfitted with all the tools and equipment our pro technicians need to tackle your car's routine maintenance needs, and we're ready to help you whip your car into shape.
What Services Do We Offer for Your Crossover, SUV or Truck?
You know that your Ford model needs routine maintenance, like an oil change, tire rotation, and brake repair, and in Nebraska City, we are ready to provide these services for you. We also help you diagnose and repair your vehicle's issues, whether it's warranty work, recalls, or unexpected issues that arise in Nebraska. We have years of training with your exact model to give you the care that you deserve, and we always do our best for you.
Schedule a Service Appointment at Larson Motors Inc today!
Our team of professionals is excited to work with drivers from Nebraska City and beyond! Whether you know what kind of service your crossover, SUV or truck needs or not, our team of seasoned technicians is prepared to assist you with all of your maintenance needs. Want to schedule a service appointment? Nebraska City area drivers can either schedule an appointment by calling or stopping by our dealership, or by visiting our service center page. Enjoy the convenience of home and schedule a service appointment via our online service center page! When it comes to convenience, Larson Motors Inc strives to provide Nebraska drivers with a truly modern experience. Choose Larson Motors Inc for all your maintenance and repair needs!